In the words of Superintendent Shannon Dillard-Miller, "Fannin County is more than a place, and being an educator is more than a profession; Fannin County is my home, and being an educator is my calling." Each of Ms. Dillard-Miller's grandparents were from Fannin, and these deep roots are a source of her strong love of community. Having those roots provides her with a true understanding of all that being part of Fannin County entails, including our Appalachian heritage and the more recent part of our local history as a premier tourist destination. She knows what brings so many people to Fannin, and she strives to preserve those unique qualities while ensuring our students continue to have opportunities to receive a quality education that is second to none.
Ms. Dillard-Miller is a product of the Fannin County School System. She attended Mineral Bluff Elementary School and West Fannin Junior High School before graduating from Fannin County High School in 1988. After graduation from FCHS, Ms. Dillard-Miller became the first member of her family to attend college by enrolling at Young Harris College; she graduated there in 1990 with an Associate of Science degree. After YHC, Ms. Dillard-Miller moved to Athens, Georgia, and attended The University of Georgia. While at UGA, she was employed as a technician in UGA's genetics laboratory and studied zoology in the biological and biomedical sciences program. After earning a Bachelor of Science degree in 1993, Ms. Dillard-Miller answered her call to teach and completed a related certification program through UGA.
After earning professional certification, Ms. Dillard-Miller began her teaching career. She served as a secondary science teacher (both middle and high schools) and also as an elementary teacher. It was during those years that she once again returned to The University of Georgia – this time in the UGA Graduate School – and earned a Master of Education in Instructional Technology in 1998 – making her a "Double Dawg."
Ms. Dillard-Miller served as a media specialist and began a leadership program at The University of West Georgia. After earning leadership certification in 2007, Ms. Dillard-Miller began serving as an assistant principal that same year in Carrollton, Georgia. She remained in that role until 2011 when she had the opportunity to return home to Fannin County and serve as the Principal of Blue Ridge Elementary School.
In 2017, Ms. Dillard-Miller was promoted to the FCSS's Director of Student Services. She served in that role until September 2022 when she was promoted to Executive Director – second in command of the FCSS – after being chosen by the Board of Education to succeed Superintendent Michael Gwatney upon his retirement in March 2023.
Superintendent Dillard-Miller is a lifelong learner who enjoys studying the Word of God and spending time with her family and friends. She appreciates the natural beauty of our area and any opportunity to be outdoors. Her favorite outdoor activities include gardening, studying nature, biking, and spending time around water. Other favorites are reading, live music and theatre, baking, and following college football – Go Dawgs! She is thankful to be leading the FCSS and is dedicated to the notion of "We are Fannin!"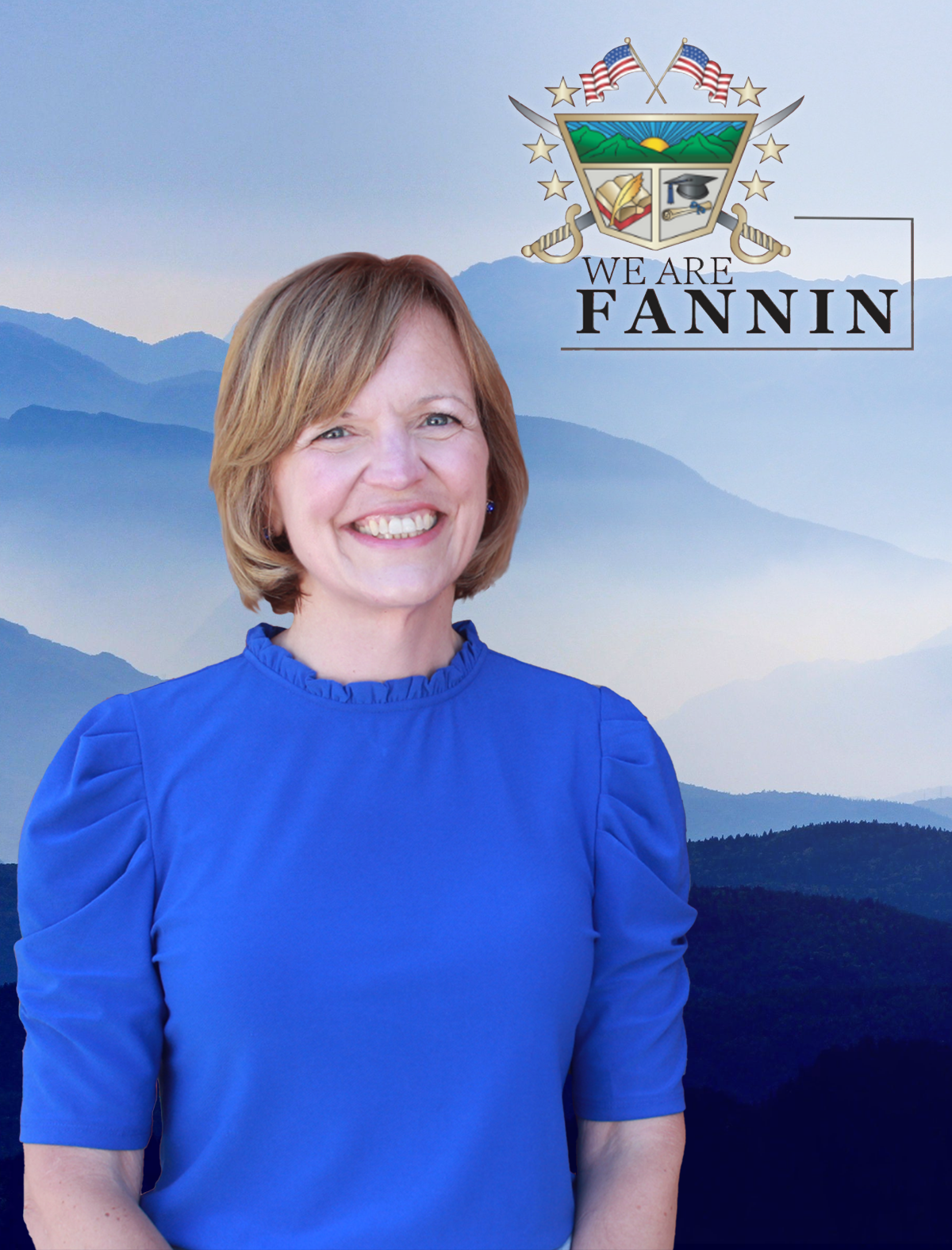 Shannon Dillard-Miller
Superintendent